Lovaca's J-kull
(dam: Dale Gudbrand's Dar Bel Amri Zaam sire: Vebjørn Viking av Hiselfoss)

4tisper/girls og 3hannhunder/boys (+2 døde tisper/dead girls) født 19.09.2008
7uker/weeks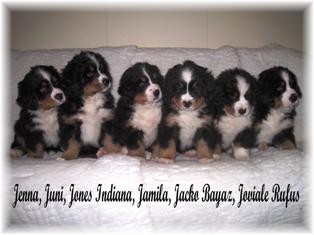 5-6uker/weeks

| | | |
| --- | --- | --- |
| Boy | Girl | Boy |
| Girl | Boy | Girl |
4uker/weeks

Alle valpene er solgt!
*All the puppies are asked for!
3uker/weeks

Fast mat smaker utrolig godt i følge oppdretter!
*We have had our first meal of real food, and it tasted very good!
2uker/weeks

Valpene vokser og har det bra. Hannhund ledig for salg!
*The puppies are doing fine. A male is avable!
Dessverre døde den ene tispen etter noen dager. Hun ville ikke ta til seg næring, og gikk ned i vekt. De andre har det bra!
*Unfortunately one of the girls died after a few days. She wouldn't eat, and was loosing weight. The rest is doing fine!