X-kull / X-litter
f.16.08.2007

| | |
| --- | --- |
| "Ola" | "Lina" |
N S FIN DK NORD LAT LIT EST BALT INTuch

SV-08 LATV-08 ESTW-08 NV-08

Ola Odelsgutt

av

Hiselfoss

FIN NORD INTuch

NORDV-03 KBHV-04

Zandrina's

Gibson

Such SV-99

Zandrinas Omar Sharif

S FINuch NORDV-03

Janipan Lad's Electra

N DK INTuch

Ille Ville Isprinsesse

av

Hiselfoss

Such

Doremis Tabasco Birkson

N S DK NORD INTuch

Enslige Evelina

av

Hiselfoss

Multi CH Multi V

Sennetta's

Sixten

N S DK NORD INTuch NV-02

Be my Baby

av

Hiselfoss
8 uker / weeks

Xante Xtravaganza vil forhåpentligvis lyde navnet Berta. Selv med sine 8300gr vil hun kunne hevde seg som en av de større i flokken hjemme i Finland.
Jeg føler meg beæret over at Tammi og Juha valgte meg som oppdretter av sin første berner.
***
Hopefully Xante Xtravaganza will come when Tammi and Juha call for Berta. Even that she is only 8300gr, she will be one of the big one in the crew back home in Finland.
I am honoured that they made me the breeder of their first bernese.
Stine er nesten født, og i hverfall oppvokst med berner i huset. Endelig sin egen "lille X" på 10kilo. Deres hjemmeside vil nok bli oppdatert både sent og tidlig.
Takk for at jeg får - om forholdene tillater det - lov til å ha et kull på henne.
***
Stine has spend most of her lifetime with BMDs, and now finally she has her own "little X" at 10kilos together with Hans. I wish you all the luck, and want to say thank you very much for letting me have the possibility to have one litter - if everything turn out what we hope for.
Andre mann ut var Xtra Xotic som satte kursen østover mot Finland. Heldigvis skapte ikke vekten på 10300gr problemer på flyet.
Rapporter sier at alt gikk bra, og Xtra taklet alt på strak arm.
Følg med på hennes "gjøren og laden" hos Kirsi og Kati at
***
The no.2 to leave was Xtra Xotic. She went east to Finland. Her weight at 10300gr did not made any problem for she and Kirsi at the incheck.
Kirsi says that everything is fine, and Xtra was wagging her tail when she entered Finland.
Follow her life with Kirsi and Kati at
Xerxes var den første som forlot redet. Han flyttet hjem til storebror Kaizer Kompis og familien Pettersen på Lundamo.
8uker gammel var vekten 8800gr.
Følg med på Xerxes og hans aktiviteter på deres
***
Xerxes was the first one who left us. He moved with the Pettersen family and his big brother Kaizer Kmpis back to Lundamo.
8weeks old he is 8800gr.
Follow his activities at their
7 uker / weeks

I dag har vi vært hos veterinær Gunnar - fått helseattest og microship. Alt var bare bra, og vi er snart klare for den store verden. Lurer på hva fremtiden vil bringe oss!
***
Today we have been at our veterinary. He gave us a healthcertificate and microship. He told us that we were all very fine, but we already knew that.
We are soon ready for the world out there, and we wonder what the future will bring us!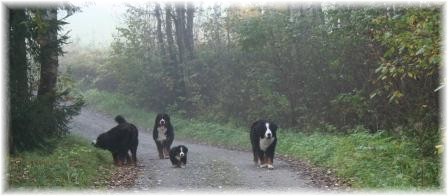 Morgentur med familien
| | | |
| --- | --- | --- |
| No.3 & 4 | Xerxes & dad | The girls |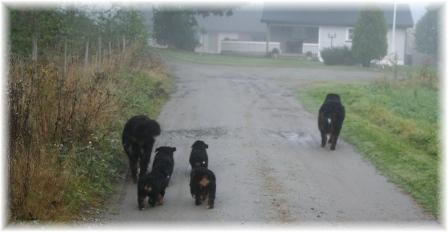 Morningwalk with the crew!

| | |
| --- | --- |
| X'n - 8300gr | Xerxes - 7000gr |
| No.3 - 8700gr | No.4 - 6900gr |
6 uker / weeks

Vi har fint høstvær, og mye av tiden blir tilbrakt ut. Småttisene er med og rusler rundt på gården sammen med resten av gjengen. Det byr på mange nye opplevelser som f.eks. vannpytter.
We have nice weather, and spend a lot of time outside. The puppies are walking around with the rest of the crew out in the garden. It gives them a lot of new experiences.
| | |
| --- | --- |
| | x - 1 (6600gr) |
| | Xerxes (5600gr) |
| | X - 3 (7100gr) |
| | X - 4 (5700gr) |
5 uker / weeks

De er ikke mye jobb, men masse kos med disse fire små. De liker å tilbringe litt tid ut, og går jeg ut for å gjøre sitt fornødne om de har mulighet til det.
Bildene ble ikke av så god kvalitet denne gang, men jeg for skylde på at det ikke er så lett å både stille opp og fotografere alene.
***
It is not much work with these four lovely ones, but a lot of pleasure. They really like to spend a lot of time outside, and they prefer to do what they have to do outside if they have the opertunity.
The pictures are not of very good quality this time. It is not easy to handle it all by myself.
| | |
| --- | --- |
| | No.1 - 5100gr |
| | No.2 - 4200gr |
| | No.3 - 5600gr |
| | No.4 - 4450gr |
4 uker / weeks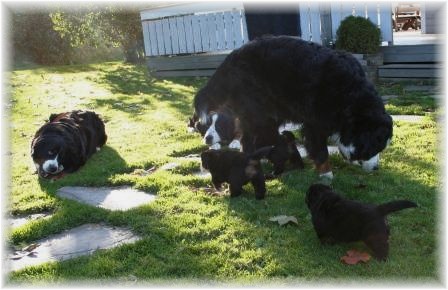 Valpene har flyttet opp til resten av flokken og koser seg sammen med mamma Lina, pappa Ola, farmor Lillemor og halvsøster Mina. Vi har et strålende høstvær, og benytter muligheten til å tilbringe en del tid ute.
Valpene har god appetitt, og tre måltider om dagen sklir ned på høykant.
Fotoseansen i dag foregikk ute i gresset, så derfor virker de nok litt korte på beina!
***
The puppies have moved upstairs, and stay together with mum Lina, dad Ola, grandma Lillemor and halfsister Mina.
We have a beautiful autumn weather, and we spend a lot of time outside. The puppies have good apetite, and have three meals a day.
Today we took the pictures in the gras, that's why the short legs!
| | |
| --- | --- |
| No.1 - 3620gr | No.2 - 2850gr |
| No.3 - 4098gr | No.4 - 3260gr |
3 uker / weeks

Nå har x-ene blitt tre uker, og det begynner å skje litt i valpekassen. De rusler noe rundt, smaker litt på hverandre og er bare fornøyde med tilværelsen. De har fått litt fast føde i form av rått kjøtt, og det smakte alldeles nydelig. De begynnder nå å bli ganske så sosiale, og halene går som små propeller.
Kullet er utrolig jamnt og fint, og som dere ser av bildene er de veldig like i tegninger. Det er bare tispe nr.1 som er litt hvit bak den ene munnviken, ellers er det veldig pent tegnet (Linas tidligere kull har hatt store variasjoner i tegninene).
***
The x-es have been three weeks old, and things begin to happen in the puppybox. They do some walking, are tasting eachother and are very satisfied with life. We have given them some fresch meat, and that tasted delicious. They do very much aprisiate company - their tails are doing their best to tell us that!
As you can see from the pictures they are very similar both in markings as in type. Only female no.1 has a little bit too much white at the left side, beside from that the markings are very good (Lina litters from before have been more from the dark to a lot of white).
| | |
| --- | --- |
| No.1 - female (2450gr) | Male (1850gr) |
| No.3 - female (2600gr) | No.4 - female (2460gr) |
2 uker / weeks

Valpene har blitt to uker, og i dag har de fått sin første markkur.

De har begynt såvidt å stabbe rundt i valpekassa når de kjenner lukten av mamma. Men, for det meste ligger de mette og fornøyde og sover.

The puppies are two weeks, and today they had their first treament against worms. They are trying to walk a bit when they get the smell of mum, but most of the time they just sleep. They seems to be very satisfied with life!
No.1

Weight; birth 555gr - 2weeks 1698gr

No.2

Weight; birth 428gr - 2weeks 1168gr

No.3

Weight; birth 520gr - 2weeks 1750gr

No.4

Weight; birth 430gr - 2weeks 1520gr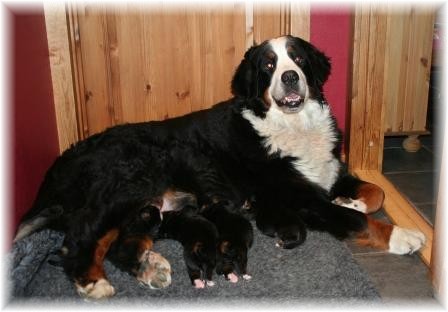 11dager gamle, og endelig kommer det bilder og litt info om de x-lusive valpene. De har det bra , og har mer enn doblet vekten sin siden fødsel. Gutten - som er alene i hønseflokken - var minst født, men han jobber med saken etter beste evne.
Lina bare koser seg meg denne lille hurven sin - hun er vant til å ha mere å henge labbene i!
***
11days and finally some pictures and informations about this x-clusive litter.
They are all doing fine, and have more than dobled their weight since birth. The male was the smallest one - and he still is - but he is doing his best to catch up with his sisters.
Lina is having her time with this small litter. Not much work for experienced mum!
| | |
| --- | --- |
| No.1 - female | No.2 - male |
| No.3 - female | No.4 - female |