U-kull / U-litter
f.12.05.2006

| | |
| --- | --- |
| "Mina" | "Frodo" |
N DK S NORDuch

Lille Frodo Lommelun

av Hiselfoss

CANCH Such

Honey-Mix Bravo

Such

Dalaleds Bamse

S Nuch

Dalaleds Honey-Bunny

Hanna Hottentott

av Hiselfoss

N Such

Skoghus Amadeus

N Such Chianti Catinka

av Hiselfoss

Nuch

Mina Mammajente

av Hiselfoss

N S FIN DK NORD INTuch USCH

Indian Hills

Showtime VD Keilissa

USCH

Keilissa's Big Ben

USCH

Indian Hills Baby Bi-Onyx

N S DK NORD INTuch

Enslige Evelina

av Hiselfoss

MultiCH MultiV

Sennetta's Sixten

N S DK NORD INTuch NV-02

Be my Baby av Hiselfoss

8uker / 8weeks
Valpene har alle flyttet til sine nye hjem!
*All the puppies are gone!
9500gr

Ugh Ugh "Hugo" har flyttet til Stian Bergli og Katrine i Fredrikstad.

Bror Joakim er med i teamet!

*

Hugo lives in Fredrikstad - in the neighborhood!

Ventetiden er over for familien Olsen i Sarpsborg!

*

Ulrik doesn't live far away either! He is a part of the Olsen family!

Ulrikke Ururupuien har flyttet inn til Anne-Marthe, Thøger, Benjamin, Sander og Linnea!

*

Ulrikke Ururupuien stays at

8300gr

Mothes familien vil ta seg godt av Udina Uxx hjemme i Wackersdorf, Tyskland

*

Udina Uxx will go with The Mothes family in Wackersdorf in Germany

8500gr

Ulkana og Landry Gerard in Rostock, D

*

Ulkana and Landry Gerard lives in Rostock!

Nok en Hiselfoss til Gunn og Kennel Tamika i Sverige!

*

Another Hiselfoss for Gunn in Sweden

8800gr

Una den Utrolige har lang vei hjem nord til Hammarøy sammen med Rasmus og Rakel!

*

Far north in Norway, you will find Una together with Rasmus and Rakel at Hammarøy!

9000gr

Urschi har flyttet hjem til Tor Arne, Svanhild og pappa Frodo!

*

Urschi lives with Tor Arne, Svahild and dad Frodo!

7uker / 7weeks
Nå er det kanskje på tide med litt ferie? Oppdretter veier en dag for tidlig, og bildene blir slettet!
Nå skulle jeg være ajour!
***
Maybe it is time for some days off? The breeder does the weight one day early - and deletes the pictures!
I'm finished!
No.1

Ugh Ugh "Hugo"

(male)

8300gr

No.2

"Ulrik"

(male)

7500gr

No.3

Female

7600gr

No.4

Female

7200gr

No.5

Female

7300gr

No.6

Female

7000gr

No.7

Female

7500gr

Ukita Urschi

(female)

7700gr

6uker / 6weeks
No.1

Ugh Ugh "Hugo"

(male)

6600gr

No.2

"Ulrik"

(male)

6250gr

No.3

Female

6350gr

No.4

Female

5900gr

No.5

Female

6100gr

No.6

Female

5700gr

No.7

Female

6100gr

Ukita Urschi

(female)

6250gr

4uker / 4weeks
| | | |
| --- | --- | --- |
| No.1(male)-4110gr | | No.2(male)-3950gr |
| NO.3-4025gr | NO.4-3545gr | No.5-3615gr |
| No.6-3350gr | NO.7-3525gr | No.8-3994gr |

3uker / 3weeks
Vi har blitt samboere med Lillemor og hennes valper! Utelivet på verandaen har også så smått begynt! Vi legger godt på oss og veier fra 2780gr - 3340gr!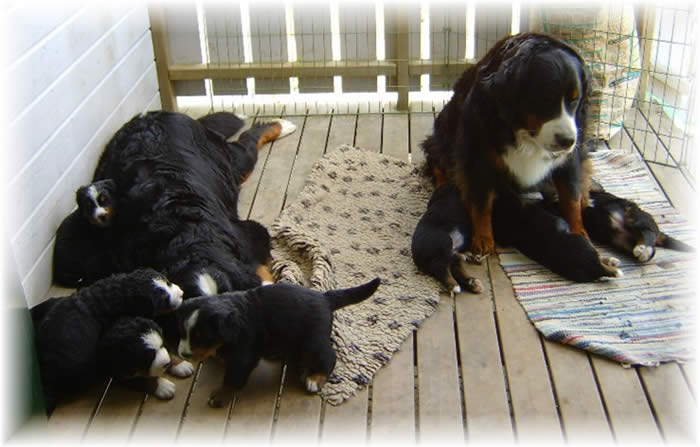 We have moved together with Lillemor and her puppies, and started our live outside on the porch! Our weights are from 2780gr - 3340gr!

2uker / 2weeks
TorArne - eier til pappa Frodo - ønsker seg en jente med litt fart i! Værsegod - bare forsyn deg! Det er en prøvelse å få tatt bilder av denne gjengen som absolutt ikke ønsker å ligge rolig! Så - beklager Hennumkroken - bildene ble ikke bedre! Vi gleder oss til du kommer på besøk med nytt kamera!
***
TorArne - the owner of dad Frodo - wants an activ girl! Please, help yourself! It is not easy to take pictures of this crowd! So sorry Hennumkroken - this pictures are what we have! We are all loolking forward for you getting a new camera! You are most welcome!
| | | |
| --- | --- | --- |
| No.1(male)- 1970gr | | No.2(male) . 1992gr |
| No.3 - 1904gr | No.4 - 1750gr | No.5 - 1745gr |
| No.6 - 1830gr | No.7 - 1874gr | No.8 - 1898gr |

1 uke / 1week
No.1 - 1366gr (male)

Valpene har blitt en uke, og de har spist godt! Det er veldig livlige valper - akkurat som Mina's kull var - så det er ikke lett å få veid dem!

The puppies have eaten very well! They are very busy puppies - as their mum's litter was - so it is not very easy to have them on the weight!

No.2 - 1335gr(male)

No.3 - 1385gr

No.4 - 1238gr

No.5 - 1295gr

No.6 - 1386gr

No.7 - 1341gr

No.8 - 1327gr

1 dag / 1 day
No.1(6936gr)795gr

hann / male

No.2(692gr)771gr

hann / male

No.3(718gr)835gr

No.4(696gr)780gr

No.5(618gr)706gr

No.6(668gr)757gr

No.7(625gr)

700gr

No.8(648gr)705gr

Her er U-kullet 1 døgn gamle! Fødselen gikk greit med disse 8, men der var en til som vi ikke klarte å få ut! Så da var det ingen annen utvei enn å åpne Mina. Der lå det en valp som nok hadde vært død et par dager! Men, Mina er i fin form, og steller sine "små" etter alle kunstens regler!
Som dere ser er det det store valper, og vekten har økt enormt første døgnet! Har aldri opplevd maken!
Nå håper vi at alt skal gå bra!
***
Here is our U-litter 1 day old! The welping went well with this 8 puppies, but it was one more that we were not able to get out! We had to open Mina and pick out one dead puppy! It had been dead for maybe two days, that's why it was so difficult!
But Mina is in good shape again, and she take very good care of her babies!
All the puppies were heavy at birth, and they have - as you can see - increased their weight even more!